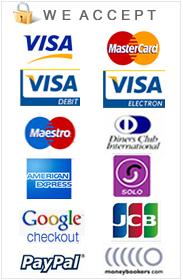 The cost of running your personal or business laser printers can take up a sizeable portion of your office budget.
But deciding to "save" money by electing to use cheap, non-brand toner cartridges can end up being an expensive mistake.
The choice becomes very difficult - go with the manufacturers' own products at inflated prices, or opt for the low-price "drill & fill" remanufactured market, where quality and reliability are a total gamble - and often a major mistake. Capacities often do not match up to the manufacturers' own and failure rates can be disappointingly high.
After researching the market extensively, not only can we supply the original manufacturers' own products at discounted prices, but we have also teamed up with Media Sciences, with Perfect Green and with Xerox in order to offer a complete range of alternative high-quality print cartridges for use with your Brother, Canon, Dell, Epson, HP, Konica Minolta, Kyocera, Lexmark, Oki, Panasonic, Samsung and Xerox equipment.
Please look through the products in this website and compare our prices with what you are currently paying.
Can't see what you want?
Please note we are constantly adding new products to the website from the thousands available to us - if there is something you want that is not currently showing then please ask us by going to our "Help" page.
Reduce your budget without compromising on quality